Trends in Kitchens For Those Who Love to Cook
Ultra-luxury kitchens are popular in the luxury real estate market. When building a new home, consider the high-end features, appliances, and accessories that will create a statement in the kitchen. Often considered the hub of the home, the kitchen isn't just a place to cook. It's also a place for children to finish homework or talk about their day. According to a recent article by Forbes.com, a fully loaded kitchen boasting gadgets, commercial-grade appliances, and butler's pantry is important for the resale value in the luxury real estate market. Wealthy buyers interested in a new construction custom home enjoy choosing the custom touches the desire from trends in kitchens even if they never cook.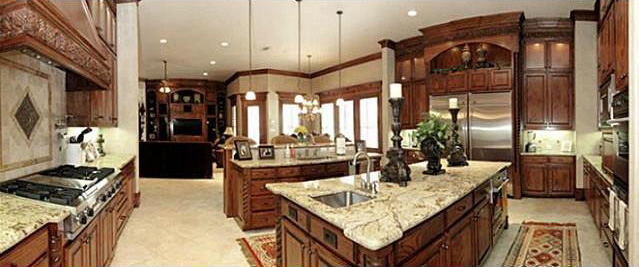 Rising popularity of the butler's pantry
One of the features that wealthy home buyers choose in their gourmet kitchens is a butler's pantry, which is also referred to as a scullery. A secondary kitchen helps when you plan to entertain in your home. People who choose an Old World or Castle style of architecture often choose the second kitchen simply because of the size of their home and the number of people they entertain. If you choose only one kitchen, you might still need multiple dishwashers.
Choosing an open layout and smart technology
Other trends in luxury new homes include the open layout for the kitchen and smart home technology that allow people to control things at the touch of an iPad in the kitchen. Other gadgets and features that appeal to high-end home buyers include warming drawers, in-wall cappuccino makers, and wet bars.
Inspired by history and architecture
As far as the interior design style, the decorating colors and choice of cabinetry often depend on whether you own a home that is Colonial, Tuscan, French, Mediterranean or a different architectural style. A Tuscan kitchen often includes a rustic mix of natural colors and sunny hues. Tuscan-style kitchens often include distressed surfaces as opposed to modern shiny, sleek appearances. Choose a terracotta or mosaic tile for a backsplash in a Tuscan home. For a Colonial home, it's best to pick a hand-crafted and unadorned style with metals such as oil-rubbed bronze. Colonial cabinets are often maple, oak, pine or other woods used by the American colonists in the 1600s and 1700s.
Home buyers who want a family kitchen room will not find it in older homes, which is why so many people choose luxury new construction.  At J. Lambert Custom Homes, we build luxury estate homes in the Dallas, Fort Worth area. Talk to us about different ideas for trends in kitchens as well as other key areas of your dream home or castle. For more information on our luxury real estate inventory, contact us.