Luxury New Homes Balance Technology with Old World Peace
If you so desired, you could own a custom smart home right out of The Jetsons, but one of the trends of ultra-luxury new homes is to  preserve some spaces with no ties to technology. When building a luxury new home in the Houston and Fort Worth area, consider an architectural style that lets you experience a taste of history. Whether you choose a Castle, Old World, Mediterranean, French, Tuscan or Colonial design, you live in a space before the dawn of tablets and smartphones. Home automation is still a critical part of any design. You will still want a home with an intercom, automatic sprinkler systems, wet bar, energy-efficient appliances and other modern features. However, the trend in new homes is to create some rooms that let you back away from electronics.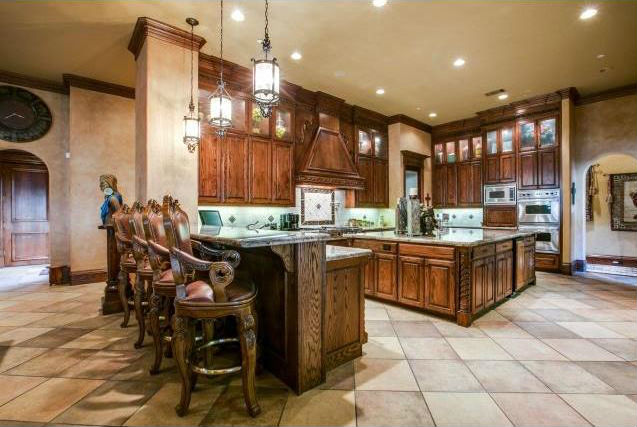 Luxury kitchens with beamed ceilings
When it comes to a luxury kitchen, the trend is to remove the flat screen television so you can practice your artistry in the kitchen without watching the cooking channel. In a luxury kitchen, opt for a functional and beautiful kitchen island. Instead of technology, incorporate a beautiful architectural feature such as an exotic backsplash and beamed ceilings. Use pendant lighting that matches your architectural style. Kitchens are not only the focal point of many homes. They are also where families gather.
Formal dining rooms
Although formal dining rooms briefly went out of fashion, they are back as designated spaces for holidays and special events. Dining rooms are wonderful because they allow families to enjoy sit-down dinners. Also, people feel more motivated to dress up when sitting down in a formal dining room where you can put to use the good china and lovely décor items.
Cozy, relaxing living rooms
Formal or cozy living rooms without the technology also provide a space to unwind. In custom new homes, display your conversation pieces and fine art in a formal living room. It's a great place to showcase antiques or family heirlooms. Your formal living room is a way to show your family's heritage and history while creating new memories. A living room devoid of technology becomes a conversation space.
Other important rooms include a spa bathroom retreat with windows overlooking the grounds. Your builder can install windows that provide privacy so people can't see in as you are enjoying breathtaking views of the scenery outside. One-of-a-kind vanities and standalone soaking tubs are back in vogue. Finally, choose new homes that bring together indoor and outdoor spaces. Most luxury home buyers choose balconies that overlook swimming pools or fountains.  Focus on privacy, the sentimental value, and custom features.
At J. Lambert Custom Homes, we specialize in custom home construction with on-trend styles including Tuscan, French, Colonial, Mediterranean, Castles and Old World. We build estate homes in the Dallas, Fort Worth area. For more information on our inventory of new homes, please contact us.