What Are American Colonial Style Homes?
While Colonial style homes originated on the east coast, they can now be found throughout the country and are one of the most recognizable home styles. They feature simple, symmetric exteriors and spacious, formal interiors, making them an excellent choice for a variety of lifestyles, especially growing families and those who enjoy entertaining.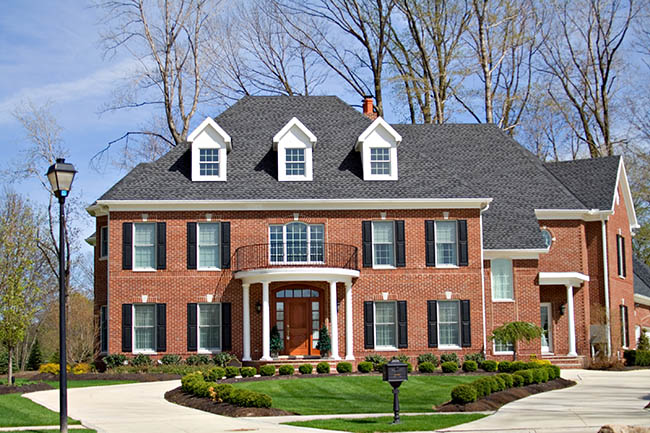 Exterior Design
When you first see a Colonial home, you will be drawn to its clean lines and sense of symmetry. The front door will typically be right in the center of the home, with the same number of windows flanking either side, both on the main level and second floor. Some Colonial homes will feature a garage, but the garage is normally designed to match the rest of the home so that it looks seamless. Most colonial homes do not feature a large front porch, opting instead for a small covered entryway. Colonial homes can be constructed with brick, wood, or siding (and stone, on rare occasions), and will have minimal embellishments on the exterior.
Interior Features
Entering a Colonial home, you are likely to notice the formal entry hall with the main staircase in the center of the home. To either side of the staircase will be the large dining room and living room areas, while the bedrooms are situated upstairs. The main level can either be contained or open-concept, as Colonial-style homes are spacious enough to accommodate both. Colonial homes typically will have decorative chair rails, crown molding, and other formal decorative features, which enhance the interior style of the home.
Colonial homes are timeless designs that are simple and easy to customize to your own tastes and lifestyle. These features make Colonial homes very sought-after, and well-built colonial homes are an excellent choice for anyone hoping to hold or grow the value of their home over time. If you are looking to build your own Colonial-style home, contact us at J. Lambert Custom Homes –we'd love to discuss your options!