Things to Consider When Designing Your Dream Laundry Room
Many of us will spend a lot of time doing laundry. Ensuring that your laundry room is ready for the long haul means incorporating functional designs and top-quality machines to make laundry day a breeze!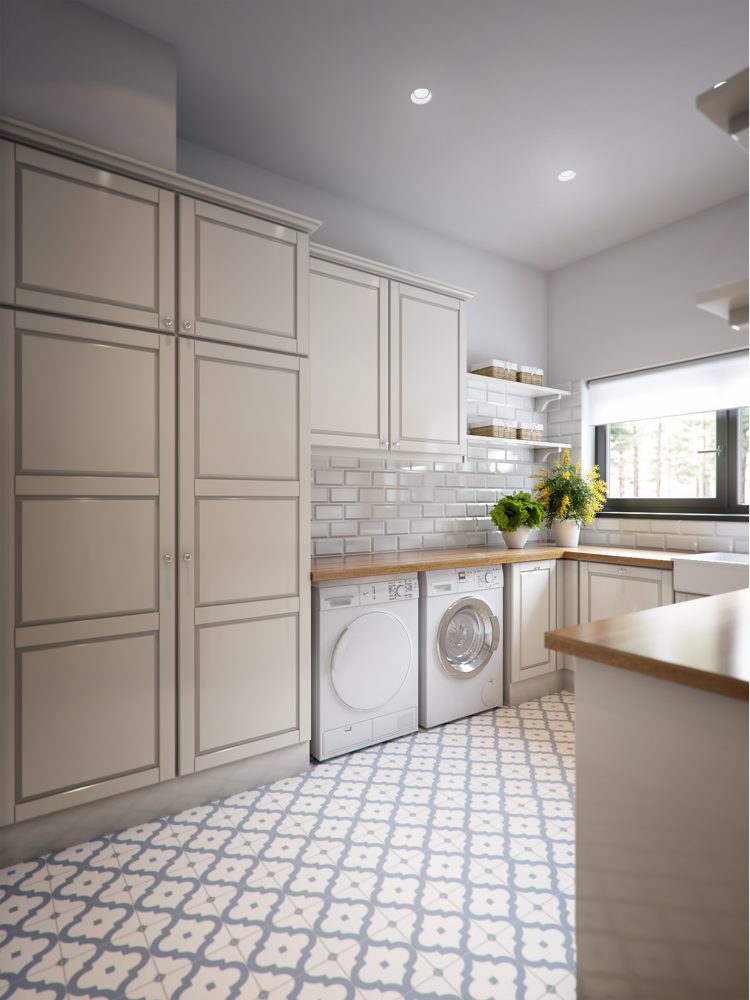 Functional Design
While we want our laundry room to look beautiful, it's important that there's also functionality throughout the design. Good Housekeeping lists several clever ways to design and organize your laundry space that will help make doing laundry more efficient.
Shelving & organization
Giving yourself room to store things such as stain removers, laundry detergent and baskets will clear up counter space as well as help keep your area clean. Keeping those extras off of your work space will give you ample room to fold clothes or remove stains. In addition to clearing up counter space, you can save room by mounting a drying rack on the wall rather than setting it up on the floor.
Sorting area
Figuring out a spot for you to sort laundry will help keep your laundry room clean and organized. Work to keep it a functional space that won't take up too much room, but will also help you work through your laundry more efficiently. An easy way to do this is by adding drawers or baskets to your storage space that can each be used to hold colors, darks or whites, etc.
Countertops
Adding beautiful counter tops to your laundry room will give you space to work with your laundry, whether it be prepping, folding, or sorting. There are a couple of different ways to incorporate counter space. You can add a countertop with storage below and a deep, soaking sink or build a top over your washing machine and dryer (given you have a front loading washing machine).
Hanging space
Adding spots where you can hang up laundry will help leave you space while you're folding and keep your clothes wrinkle-free. Don't be afraid to add a lot of hanging space, especially if you're doing laundry for multiple people.
Pick the perfect washing machine and dryer
Washers and dryers have come a long way. Many of them have several different amenities to consider when buying the best one for you. Digital Trends discusses many of the pros and cons of different machines.
Top loading versus front loading washing machine
Some of the benefits of top loading washing machines are that they can provide you with a deep basin to hold more clothes and can typically handle higher spin cycle speeds (expelling more water, saving you on dry time). However, they can be too deep for some people to be able to reach the bottom.
Front loading washing machines tend to have more features than top loading machines. The features vary depending on the model. However, they do typically require more maintenance to ensure they continue running efficiently, in addition to generally being more expensive.
Stackable washer and dryers
Washers and dryers that can stack are usually great for people who don't have a lot of space for their appliances. Because they stack, they can fit in smaller areas, giving you more space wherever your designated laundry area is. However, since they are smaller, you typically can't wash as much as you would with a larger washing and drying machine.
Size
Considering the size of your washing machine and dryer will depend on how much laundry you typically do and doorway space. If you typically have a lot of laundry to do (like laundry for your family), you may want to consider getting larger appliances. These machines will be able to wash and dry larger loads more efficiently than a smaller unit. However, you do need to consider your doorway space. Your washing machine and dryer won't do much good if you can't get them through the door.
Features
Depending on the model that you're looking at, there are going to be different features that your appliances offer. Considering your budget, pick a few of your must haves and a few of your wants that you want to see in the washer and dryer that you end up buying. Some good things to consider are if you want it to be eco-friendly, have soil detection, spin at higher speeds, etc.
Make it your own
Ultimately, we end up spending a lot of time doing laundry. Especially when we have a lot of people that we're doing laundry for. Adding functional elements will help you get your laundry done more efficiently. Finding the perfect washer and dryer for you will help make doing laundry a breeze. Adding your own personal touches will make the space your own. Utilizing soft colors and appealing designs will bring you a sense of ease on laundry day.
Contact us at J. Lambert Custom Homes to start planning your dream laundry room in your new luxury home!