A Cozy Keeping Room Suits Your Colonial Style Home
Imagine it's a chilly Saturday morning and you've poured your first cup of coffee. But instead of sitting at a breakfast table, you nestle into a comfortable chair by a warm hearth that's part of your Colonial-style kitchen. That's the beauty of a keeping room.
It's an age-old design tradition with a brand new lease on life in the 21st century. Whether you want a small nook with a couple of chairs or something similar to a den, keeping rooms adjoin the kitchen, creating an atmosphere of relaxation and hospitality.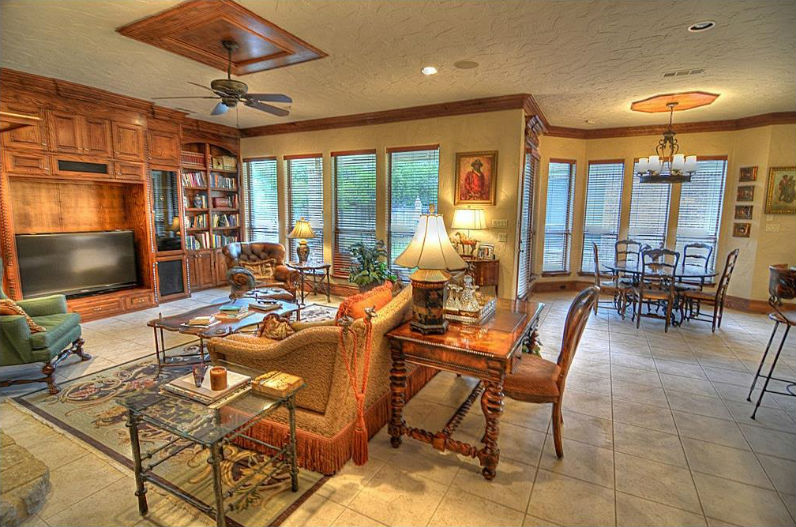 Colonial Style Keeping Rooms Bring People Together
Keeping rooms were once a matter of practicality. Kitchens were warm by nature, and whole-house heating didn't exist. Although the concept fell by the wayside as home heating technology improved, people have always loved to gather. That's why modern dens and living rooms evolved, but they're far away from the home's heart.
People settle into keeping rooms because they feel like a retreat. In fact, Central Virginia Home Magazine calls them sanctuaries. And where meal preparation isolates the cook in an ordinary kitchen, these spaces bring everyone together organically and comfortably.
Hard and Fast Design Rules Don't Apply
The difference between dens and keeping rooms is proximity to the kitchen. Yours can look however you like. In Colonial homes, they weren't fussy or extravagant, and had a few common elements:
Large, open hearth
Seating
A warm floor covering such as a rug
Cupboards, chests and storage shelves
Hobby and game items for entertainment
Some homes also had spots for sleeping.
Today's keeping rooms still revolve around comfort. Many have a fireplace or heat stove and soft chairs or sofas to sink into. Some have a bank of sunny windows, but others feel more secluded. Technology such as television is usually absent, which encourages everyone to unplug from the world.
Almost Any Home Can Have One
It doesn't matter if the home of your dreams is an expansive, center-hall Colonial with square footage to spare or something smaller. Keeping rooms are intimate by design. You won't have to sacrifice anything important to incorporate one into your plans.
A sunny niche off the kitchen makes an ideal spot. Or maybe you prefer a central room with no windows for a truly cozy feel. In a larger home, the kitchen can blend seamlessly into the keeping room with a fireplace at center stage. As long as two or more people can sit for a spell, there's enough space to weave a keeping room into your home.
Whether it's cold outside or summer is in full swing, this is one home design element that's worth the investment. A keeping room brings people together, but that's not the only attraction. It's a quiet refuge where a cup of tea and a great book also make good company.
Contact us to learn more about this and other custom-built features that can turn your home into a haven.