Castle Style Luxury Homes
Have you ever dreamed of owning and living in a castle? It's actually possible, and you don't have to move to Europe to do it. J. Lambert Custom Homes specializes in building whatever type of home matches your dreams. That means you can own a beautiful castle-style home right here in Texas. Experience what living in a castle felt like centuries ago, while still enjoying all of the conveniences of modern life.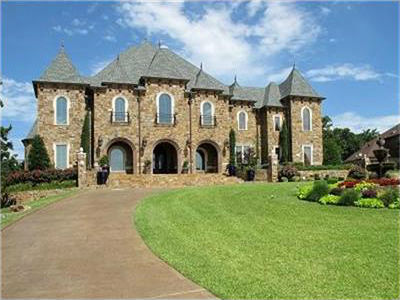 Imagine driving up to a gated entrance, which opens to a winding driveway. The drive leads you along luscious landscaping to your luxurious castle-style home with its beautiful stone exterior. Towers and/or round turrets with crenellations or pointed roofs greet you and project true royal majesty. A gothic-style front door with stained glass completes the exterior picture, inviting you and your guests inside.
Once inside, picture a wall of stone with a massive fireplace in your great room. A large, wooden table and wall sconces grace your dining room. Wooden beams on the ceilings throughout add to the realistic look. The kitchen contains all of the most up-to-date appliances, but with its wooden island, concrete counters, and dark cabinets, it retains an old world look that you're sure to love.
Make your master bedroom something special to behold with a canopy or four-poster bed and a two-way fireplace that's enjoyable from the bedroom or the master bathroom. In the master bathroom, a clawfoot or stand-alone, modern tub in front of another interior stone wall will create the perfect relaxing atmosphere for bathing at the end of a busy day.
A library, game room, media room and/or other specialty rooms are also possible as part of your castle. You and your family will live in comfort and style. You can even have a lagoon pool with a cave to enjoy on hot summer days!
Many possibilities exist to make your castle a true home. For more design ideas, contact us today. Our passion is to help buyers create their dream home. From the planning stages through the building, finishing, and completion of your home, we work hard to ensure quality construction, unique design, and complete customer satisfaction.