Planning Your Outdoor Spaces in a Luxury Modern Home
When designing a luxury modern home, the emphasis is often placed on the interior – the kitchen, the master suite, the living spaces. However, the outdoor spaces are just as important in creating a harmonious and luxurious living environment. At J. Lambert Custom Homes, we believe in creating outdoor spaces that are not only visually stunning but also functional and comfortable. Here's our guide on planning your outdoor spaces in a luxury modern home.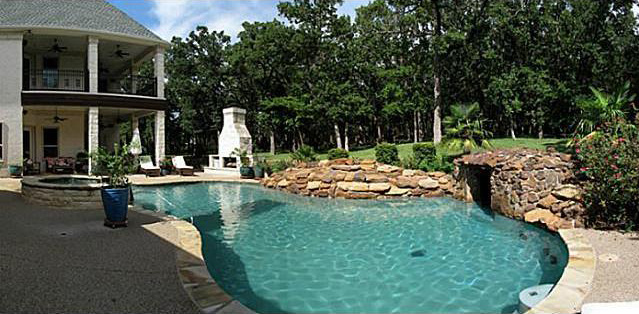 Envisioning Your Luxury Outdoor Spaces
Before diving into the design process, it's crucial to envision your ideal outdoor space. Think about how you want to use your space. Do you want to entertain guests, enjoy quiet evenings, or have a safe place for your children to play? These considerations will guide your design decisions.
Creating Outdoor Living Spaces
Luxury outdoor spaces should extend the comfort of your indoor living spaces. They should feel like an extension of your home.
Outdoor Kitchens and Dining Areas
Modern outdoor kitchens and dining areas are perfect for alfresco dining and entertaining guests. With amenities like built-in grills, pizza ovens, refrigerators, and comfortable seating, you can create a culinary haven in your backyard.
Outdoor Lounge Areas
Outdoor lounge areas, complete with plush seating and a fire pit or an outdoor fireplace, create a cozy environment for relaxation and socializing.
Luxurious Pool Areas
A swimming pool is a fantastic luxury feature that offers both recreation and relaxation. Surround your pool with a beautiful deck, comfortable lounge chairs, and shade features for a resort-like experience at home.
Prioritizing Privacy
Privacy is a key consideration when planning outdoor spaces in a luxury home. J. Lambert Custom Homes ensures your privacy with strategic landscaping, fencing, and the placement of outdoor features.
Integrating Nature with Modern Designs
In a luxury modern home, there's an emphasis on blending the outdoor spaces with the natural surroundings. This can be achieved by using natural materials like stone and wood, incorporating local plants into your landscaping, and designing your outdoor spaces to take advantage of natural views and sunlight.
Lighting Your Outdoor Spaces
Outdoor lighting enhances the beauty of your home, creates a warm and welcoming atmosphere, and increases safety and security. From ambient lighting for outdoor living spaces to accent lighting that highlights architectural and landscape features, a well-planned lighting scheme can significantly impact your outdoor space.
Working with J. Lambert Custom Homes
At J. Lambert Custom Homes, we specialize in designing and building luxury modern homes with incredible outdoor spaces. Our team collaborates closely with you to understand your vision and create outdoor spaces that complement your home and lifestyle.
Creating luxurious outdoor spaces involves thoughtful design, careful planning, and a deep understanding of your lifestyle and preferences. At J. Lambert Custom Homes, we ensure every aspect of your home, including the outdoor spaces, exudes luxury, comfort, and style. Partner with us to create an outdoor living experience that you will enjoy for years to come.